EMPC
23
What future do you want to connect with?
The 24th European Microelectronics  & Packaging Conference
11-14 September 2023 –
Wellcome Genome Campus, Hinxton
(near Cambridge), UK

The 24th European Microelectronics Packaging Conference (EMPC 2023) will return to the United Kingdom after 12 years and will be hosted at the Wellcome Genome Campus in Hinxton, near Cambridge from 11-14th September 2023.
The purpose built event venue with cutting edge audio visual facilities, an auditorium, and the Genome Gallery exhibition space featuring an elliptical steel and glass roof covering 1600m² of new exhibition and breakout spaces. This creates a naturally lit, open and spacious venue space ideal for informal discussion, networking and poster sessions.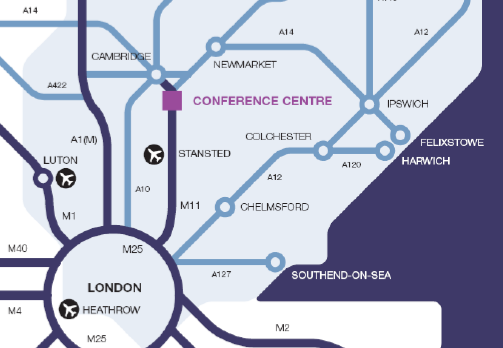 The Wellcome Genome Campus is located about 16km South of Cambridge and 40km from Stansted Airport in the United Kingdom. It is accessible by train, plane and car.
Information on accommodation at the Wellcome Genome Campus, Local Hotels and Hotels in Cambridge is available here. Accommodation has also been arranged at Homerton College Cambridge, the venue for the Conference Dinner.
Notes:
– Tickets inclusive of Conference Dinner
TC = Technical Committee